Activities/Services
Cooking Lessons
The Villa Luciano boasts three kitchens: two on the main floors well-stocked and modern, one with a fireplace and both with dishwashers. The third, the original kitchen, is set up for cooking classes. It has a working, wood-burning pizza / pastry oven, and vast spaces to comfortably spread out, learn and work. Our staff of chefs and interpreters will teach you the traditions of Tuscan cooking with the best local ingredients and recipes, or just prepare and serve a feast for your friends and family upon request. Come cook!Price: $ 138 p/p (minimum 8 people) - Full day. Food included.
Typical Villa Luciano Culinary Experience:
From 8 am to 10 am:
Go shopping for fresh ingredients in Londa markets

From 10 am - 1 pm:
Prepare lunch
Appetizer - Antipasti toscani with crostini, salami, ham, and cheeses
First course - Prepare handmade pasta: tortelli, lasagne, passatelli, Tuscan bread soup, and pomodoro sauce
Second course - fiorentina steak, rosticciana pork
Lunch - eat and enjoy the fruits of your labor!

From 5 pm - 6 pm:
Desserts and pastry preparation
Crème caramel; crostata with locally handmade marmalade; tiramisu, and more
From 6pm - 8pm:
Prepare hand made Pizza and Calzone
Set up the wood oven; heat it to the perfect temperature
Discover the secret of preparing dough with just the right combination of ingredients for a real Italian pizza
Make a sauce; spread it on your dough then top it with fresh ingredients of your choice, such as mushrooms, a variety of fresh vegetables, cheeses and meats
Dinner
The choice of the dishes to be prepared will be decided with guests before shopping. Wines will be chosen to compliment the meal.
Winery Tours of the Tuscan Countryside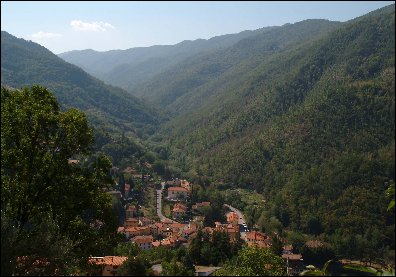 Witness the art of winemaking at its best in Greve in Chianti and in the Sieve Valley, the northern portal of the most famous wine region in the world. The Valley is picturesque; Londa, a characteristic rural village... an ideal place to begin your tour.






Wineries you will visit:

Castello di Nipozzano
(Frescobaldi)
Fattoria Selvapiana

Experience the mystery and magic that takes each grape from robust vine to full-bodied wine. Walk among towering rows of oak casks and grape vines in local, family owned vineyards. Sign up for a tour you'll never forget.Price: $ 100 p/p (minimum 8 people) - Half day, transportation, guided tour and wine tasting.
Celebrate Love at Villa Luciano
Hold your wedding or anniversary celebration in the land that gave us the word romance. The Villa Luciano will make your wedding day dreams come true in a spectacular Tuscan setting. Book this Italian storybook villa, nestled in the tree-lined hills of Londa. Marry in the gardens and honeymoon in our gracious suites and elegant rooms. Our staff is prepared to make every detail as special as the moment itself. Book us for your nuptials or special event today!
Testimonials
Villa Luciano is a paradise of the Tuscan variety. We savoured every moment. Londa residents were warm and helpful ... The crystal clear pool provided many hours of pleasure and fun ...Read more...
Villa Luciano
Viale della Rimembranza, 2 Londa (Firenze) Postal Code 50060, Italy
Villa Luciano direct numbers in Italy Tel: + 39 055 8351932 Villa house

International Booking Office in London (UK) Tel: + 44 203 2875856
New York ePhone number: + 1 646 205 5064
e-mail: sandra@villaluciano.com
UK (London): + 44 (0)203 2875856 (this is my Skype number linked to my Skype account with voice mail and forward to my UK mobile)
New York office (ePhone): + 1 646 205 5064